Sound the Trumpet of Death!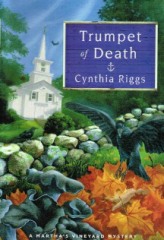 Trumpet of Death, the 13th Martha's Vineyard Mystery, is now available in bookstores and from the usual online retailers.
Despite their grim name, Trumpet of Death mushrooms, also called Black Trumpets, are a rare culinary delicacy. A city slicker's confusion about their nature entangles him in a web of deadly resentment and intrigue. Only Victoria Trumbull can clear his name and find the real killer(s).
Howard Attebery, 1922–2017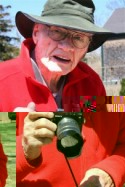 Howard Attebery, beloved husband of Cynthia Riggs, scientist, engineer, dentist, photographer, and co-star of a love story for the ages, died peacefully at Cleaveland House, West Tisbury, Martha's Vineyard, on February 1, 2017.
Howie wrote his own obituary, which is quite wonderful and which you can read on the Vineyard Gazette website: "Howard Attebery, A Quiet Man Who Loved Company."
In late March, Howie's family donated his trinocular microscope to the new Vernon Jordan Science Center at the Martha's Vineyard Public Charter School. See "The Gift of Curiosity" in the Martha's Vineyard Times for details and this website's News page for more photos.
The book he co-authored with Cynthia, Howard and Cynthia: A Love Story, is now available exclusively from The Moth Radio Hour. For more about the book, click the link at left. This photo of Howie is by Lynn Christoffers.
Now Available by Mail Order!
Several titles published by Cynthia's Cleaveland House Books are hard to find if you venture far from Martha's Vineyard — but you can order them through this website!
If you prefer to order by phone or mail, instructions are on the order form for each title.
Howard and Cynthia, the remarkable story of reunion and romance told in the lovers' own words, is now available exclusively from The Moth Radio Hour. It should soon be available in the Moth store. Until then, please contact info@themoth.org for ordering information.
Here are the books, all of which are in trade paperback format: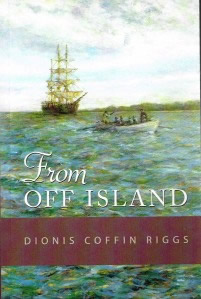 • From Off Island, by Dionis Coffin Riggs. First published in 1940, this riveting novel of the great age of whaling is based on the life of the author's grandmother, Mary Carlin Cleaveland — great-grandmother of mystery writer Cynthia Riggs.
• Murder on C-Dock. Set on the Washington, D.C., waterfront, where author Riggs lived in a houseboat for 12 years. We're all hoping this will be the first of a new series!
• Double Murder on Martha's Vineyard. This handsome volume collects two early out-of-print entries in the Martha's Vineyard Mystery series: Deadly Nightshade and The Cranefly Orchid Murders.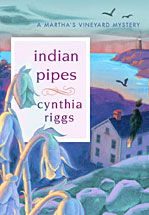 • Indian Pipes. Plans are afoot to build a casino on Martha's Vineyard, and the stakes are high enough to provoke murder, mayhem, and the unearthing of family secrets.
• Poison Ivy. The trade paperback edition of a recent Martha's Vineyard Mystery, in which academic infighting turns fatal.
• Victoria Trumbull's Martha's Vineyard. Already a classic, this Vineyard guidebook is like no other. A must-have for fans of the Vineyard's pre-eminent sleuth!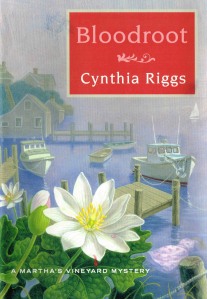 Bloodroot is the latest entry in the Martha's Vineyard Mystery series. Going to the dentist becomes even more scary when an elderly patient dies suddenly in the examining chair. Her four grandchildren don't regret the loss, but three of them are shocked to learn they've been cut out of her will.
"Unstoppable Cynthia Riggs"
That's the title of a profile of Cynthia featured in the current issue of Martha's Vineyard Magazine. It includes some tidbits that may surprise even longtime fans.
Did you know that in 1948 Cynthia qualified for the Olympic fencing team? That she's crossed the Atlantic twice in a 32-foot sailboat? That she was reportedly the seventh woman ever to set foot on the South Pole?
And it includes this priceless photo of two-year-old Cynthia riding on the shoulders of her mother, poet Dionis Coffin Riggs, the model for the indomitable sleuth Victoria Trumbull.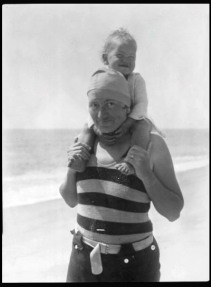 * * * * * * * * * * * * * * * * * * * * * * * *
• For 12 years, Cynthia lived on a houseboat on the Washington, D.C., waterfront — and she's put her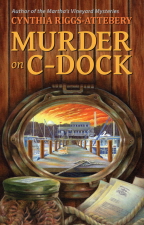 nautical experience to nefarious use in Murder on C-Dock, the first in her new D.C. Waterfront Whodunit series. When Commodore Dunn is murdered, there's no shortage of suspects: everyone on C-Dock had reason to wish him dead. Persie Lee Butler's sleuthing soon turns up a web of secrets that goes back 30 years — and puts her own life in danger. Murder on C-Dock features a stunning cover by Martha's Vineyard artist Elizabeth R. Whelan, a sailor herself who knows her boats.