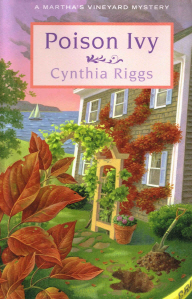 On her first day as an adjunct professor at Ivy Green College, Victoria Trumbull recognizes the stench emanating from her classroom as more than just dead mice. Brownie, the grounds keeper's mangy mutt, soon discovers a second body hiding beneath a tangle of poison ivy.
The stakes have never been higher for Ivy Green, which is already on the brink of losing the support of its accredited partner, Cape Cod University. Thackery Wilson, Ivy Green's founder, worries that the bad publicity following the murders will obliterate the financial and academic support that the tiny college and its students desperately need.
Meanwhile, Victoria learns that Ivy Green professor Roberta Chadwick, who is up for tenure, may be passing the work of her grad students off as her own.
As the bodies continue to pile up – all of them members of the tenure committee – Victoria and Brownie team up to hunt the killer and save the college.
A trade paperback edition of Poison Ivy is available by mail order from the author.