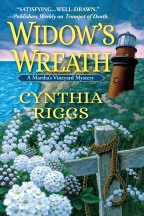 In Widow's Wreath, the 14th in the Martha's Vineyard Mystery Series, Victoria Trumbull agrees to host the wedding of her young cousin Penny Arbuthnot to Rocco Bufano -- but this marriage was not made in heaven, and the wedding plans are considerably more elaborate than Victoria bargained for
Penny and Rocco are each convinced that the other's wealth will solve their financial woes. Trouble is, they're both flat broke. Penny is not the wealthy Vineyarder that Rocco takes her for, and Rocco himself has been disowned by his billionaire father. Then a body is found hanging in Victoria's basement. No one knows who the dead man is — but he bears an uncanny resemblance to Rocco.
Since the venue is now a crime scene, the wedding is postponed, but wedding guests continue to arrive in less than orderly fashion: Rocco's brother Dominic is discovered dead drunk in Penny's car, and cousin Angelo hobbles in accompanied by a young woman with spiky magenta and blue hair who turns out to have a prodigious knowledge of murder weapons. None of them seem all that fond of Rocco.
Meanwhile, fuming in the Stop & Shop parking lot is Bianca, the fiancée Rocco dumped without notice in favor of the supposedly well-heeled Penny. She's loaded for bear, and the bear in her sights is Rocco.
Rocco's past is catching up to him — with a vengeance.