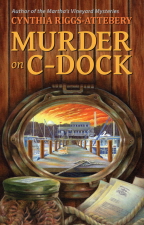 by Cynthia Riggs-Attebery
For 12 years, Cynthia lived on a houseboat on the Washington, D.C., waterfront — and she's put her nautical experience to nefarious use in Murder on C-Dock, the first in her new D.C. Waterfront Whodunit series.
When Commodore Dunn is murdered, there's no shortage of suspects: everyone on C-Dock had reason to wish him dead. Persie Lee Butler's sleuthing soon turns up a web of secrets that goes back 30 years — and puts her own life in danger.
Murder on C-Dock features an array of fascinating characters, from Dr. Melinda Hooper-Horton, a research scientist who specializes in deep-sea worms; to Dojan Minnowfish, a Gay Head Wampanoag who's been exiled to Washington to straighten himself out; to Captain Kitty, Persie Lee's marmalade cat, who lives up to his "Dangerous Watch Cat" billing.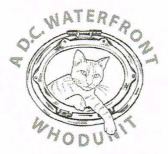 The book's stunning cover is by Martha's Vineyard artist Elizabeth R. Whelan, a sailor herself who knows her boats. In a blog post Elizabeth discusses how she went about creating the cover.
Murder on C-Dock is available at Martha's Vineyard bookstores or by mail order from the author.